Supernatural Friday. You ready, kids?
Well, I wasn't.
At least not for the first scene. It's been some time since we've seen the whole good-guys-torturing-the-bad-guys thing, and I think what made it worse for me was that they had the conversation with the poor guy the demon was in before the highly disturbing torture sequence. "Yes, please, kill me, just stop the monster." This was definitely the most graphic we've seen. I do not miss all of that. Hey – there you go. You know how I whinge all the time about the good old days? LOL, something good about the changed atmosphere of the show at last! Of course, we found out that little heart-to-heart with the victim wasn't exactly honest. 😉
Aieee! Lucifer, finally!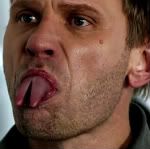 Aiiiiieee some more. FORKED TONGUE is gonna give me bad dreams. I am very easily squicked by shit like that, so I had to cap it for posterity or whatever. Blood, no problem. Weird stuff like that (and eating noises) give me the heebies. Ditto the bookstore scene. If that is what Sam's been seeing all this time, I have NO idea how he's not bugfuck somewhere in a corner already. Or dead. I'm not sure they quite gave it a good enough treatment, as it went from Sam being stalwart in ignoring Lucifer to suddenly walking down a dark alley having a conversation with him. I kind of bzuhhhhed? at that, if I'm going to be honest.
Oh, Jeffrey. I knew the moment we saw him again, sadly, so I wasn't surprised the way Dean was. But NOT THE PUPPY. The way she picked up the cone and just followed… awww, damnit. Puppy. 🙁 🙁
Tried hard to ignore all the gendered insults, since they were coming primarily from Lucifer. I'm just not sure that having the devil be the mouthpiece for that shit is a good enough reason to pretend they didn't bother me. It's not like Supernatural is a stranger to them, but I might be sensitive to them at the moment because a coworker dropped the C-bomb on me in casual conversation today (! seriously, what?! who does that?) and it's been bugging me.
I liked Ms. Havelock (sp?). The whole thing was a bit cliche the same way Jeffrey-the-serial-killer was, but I liked how she was determined to see for herself at the beginning (even if she admitted she shouldn't have, that she hadn't been ready), and that at the end she stepped up and was the one to exorcise the demon and save her son. Actually, she did all the work – she tracked the thing and exorcised it, as well as had the foresight to get the devil's trap in place (no idea how she managed it, but I'm glad she was resourceful).
I wonder if Dean even realized when he was describing the psychopath ability to lie and lie and lie and pretend everything was normal that he was, in fact, describing him and Sam.
I will give this one tentative thumbs up, if only for the revisitation of Sam/Lucifer after Sam bopping around so long like he was peachy. And now we've got yet another hiatus. *sighgrumbleremembergoodolddays*